We are a small, family business with a clear philosophy,
life is better with a Green Hound!
Big Green Hound began as an online dog treat and accessory store back in 2021. As a family of animal-lovers it's always been important to us that our dogs, as well as being our best friends, trusted confidante, and faithful, loyal companions, are also given everything they need to be healthy and happy. As humans we try to eat healthy, natural foods, stay active and enjoy our environment, why would we want different for our pets? Our product range aims to offer an alternative to disposable pet ownership. The brands we stock share our ethos of doing better for dogs, and better for our planet too, while still offering excellent quality and variety.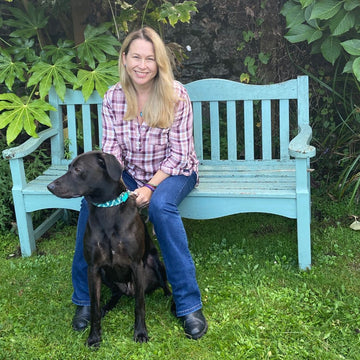 Since these humble beginnings, and inspired by my own big hound Alfie, Big Green Hound has steadily grown to include the paracord dog gear range, run by me, Caroline!
I specialise in creating unique, luxury dog collars, leads and accessories using paracord and other textiles. Every item is handcrafted using a variety of braiding and knotting techniques.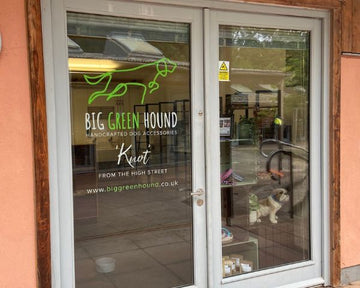 This year Big Green Hound has moved into a workshop studio in the stunning grounds of Cockington Court in Torquay, Devon. Our workshop is now open to the public five days a week, offering visitors a firsthand glimpse into the world of paracord artistry and our distinctive canine fashion creations. We invite you to explore our unique collection online or, better yet, visit us in person at Cockington Court.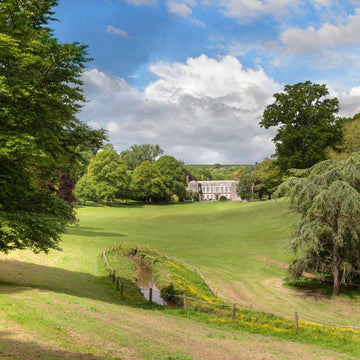 About Cockington
Picturesque Cockington is nestled away in Torquay, Devon, and is a haven for dog owners and their hounds. Surrounded by stunning natural beauty, this charming village offers a delightful escape for leisurely dog walks and adventures. The spacious grounds and welcoming atmosphere make it an ideal dog-friendly escape where you can discover the perfect blend of culture, creativity, and open spaces. Whether strolling through the enchanting gardens or exploring the local arts and crafts scene at Cockington Court's artisan studios, you and your canine companion can enjoy quality time together in this dog-friendly destination!